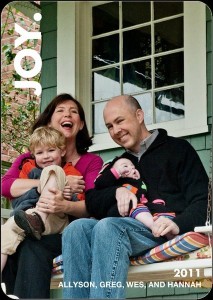 Allyson Brown began her writing life as a marketing assistant at Starbucks. Her early work in brand management and product development gave her insights into what motivates people – the core nature of how we choose things that make a difference in our lives.
In recent years, her story-telling skills have extended to the world of outdoor education, as the Director of Marketing at IslandWood (an amazing, 255-acre outdoor learning center on Bainbridge Island, WA in Puget Sound), where she led strategic communications and public relations, as well as growing the critical revenue programs for the organization.  She has since begun managing fundraising campaigns for the organization and other community activities.  She is also actively involved with Seattle Children's Hospital, serving as the chair of the Family Advisory Council.
In 2010, Allyson gave birth to a wonderful daughter, Hannah, who joined her big brother in our family.  Hannah began having seizures at 4 hours old from an undiagnosed genetic disorder that took her life very young (16 months old).  You can read about Hannah on her Caringbridge site.
Allyson writes about grief, family support, and the love and challenges of raising a family (including the baby daughter that joined them in 2013).