"It was the most incredible experience…"
That is what I say now whenever the topic of our middle child comes up. It isn't as often as it used to be. Sometimes I'll have someone ask, "wow, that is a lot of years between you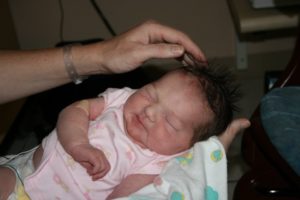 r children, was that planned?" Other times I'll get a simple question, like "did you use a doula with your children?" and I'll say without thinking, "yes, when the one that helped with Wes' birth retired, we had another amazing doula with us for our second two". Then I realize they only know us to have two children.
Usually there is a follow up question, and I have the chance to mention Hannah. And what I now roll her whole life into are those six words, "it was the most incredible experience." Hannah's birth…her life…her passing…her legacy.
Our sweet girl celebrated her 6th birthday yesterday – how can it be 6 years? Hannah would be in kindergarten this year, and I can only imagine how our lives would look if gene therapy had been available, or if the small mutation that forever changed our lives hadn't been there. It is now just a passing flash of the possibility, before once again the sense of awe of our experiences with Hannah overtakes the loss.
Amazingly, the weather here on Bainbridge Island was exactly the same yesterday as it was in 2010. A rainy, cold October opened up into a few sunny, unseasonably warm November days. On November 4, 2010, I remember the dawn hours, seeing the sunrise to the east from Swedish Hospital on First Hill as my labor had quieted – and thinking to myself, "what a lovely day to be born!" A few hours later, Hannah was in our arms.
The story of the hours after her birth and the following sixteen months I've shared many times, but the story of that sunrise before her birth – I rarely think about it but carry it with me. I often talk about Hannah and sunsets, since she passed away at sunset.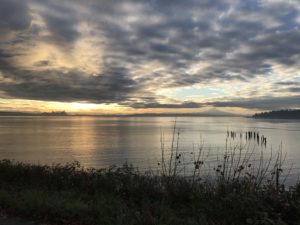 Hannah was my sunrise girl, too. I always thought I was a 'west-facing' person. Now I realize I am also 'east-facing'. The beginning. The dawn. This photo was taken looking to the city on a morning this week, but the sky looked just like this six years ago, too.
My heart is with our wonderful, sweet girl. Carrying you always, my love. Happy Birthday, Hannah!