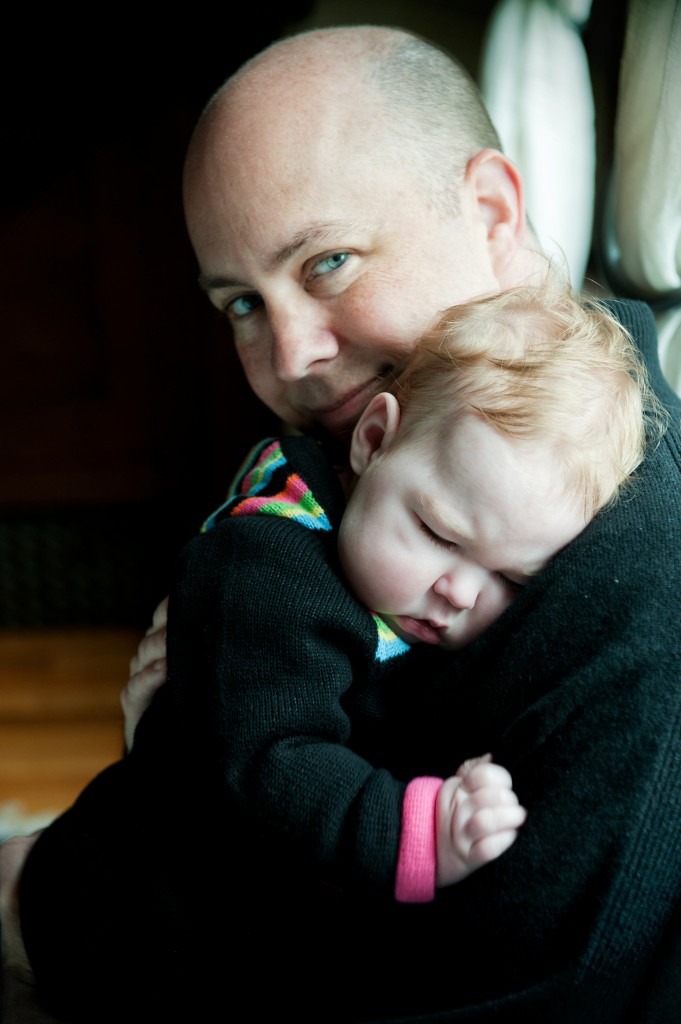 I am a lucky woman. It would be easy to feel sorry for our situation, losing Hannah. And I do. It would be easy to feel overwhelmed by the enormous question facing our family – what will we do without Hannah? It would be easy to feel lost, with such loss.  I do.
But I also choose to see what I have. Along with our wonderful son Wes, I have Greg.
I always knew, from the early days at Starbucks, after Greg introduced himself to me in front of the VPs office with which I worked, that Greg was special. My first impression – Greg, a shy early 20's guy with a sweet smile. Me, an early 20's gal with a million things going on. Over the next few years, I would always delight when I ran into Greg. From our early days in a week long training class (we were both certified trainers for intro to Starbucks education), to the fun times on the Starbucks softball team (Greg competent at short stop, me a total wreck on 2nd base), and I knew Greg was unique. Kind. Sincere. Caring. Our friendship grew over many years. Once we finally started dating, our love grew fast.
Fast forward almost 20 years. We have learned and grown together every day (including our fair share of disagreements). But this past year, our year with Hannah, I learned truly what an amazing man Greg is.
Greg never faltered in his love and care for Hannah and our family. He was always there – exhausted by a long day at work, or a long night with wacky blood sugars (either his own or Wes'). Hannah would wake in a seizure, and as we faced so many hundreds of times, he would drop all of the things that he was feeling and just step into the work. Our roles became clear – Greg made the initial call to Neurology, then the 911 call. I would treat Hannah and pull together my overnight bag. Once we discovered that my car sickness during the ambulance ride wasn't a fluke, but rather a real thing each and every trip to Children's, Greg stepped in and took her down, holding sweet Hannah in his lap time after time. We'd later laugh about the route the driver took – was it the bumpy ride on 65th or the traffic-filled ride on 50th?
An hour or so later, when I could leave Wes in the capable hands of our family or friends, I'd join Greg in the ER. He was always positive. Always on his feet, talking (or joking if the seizure was short) with the doctors and nurses. I would come in, immediately sit next to Hannah (or crawl into the bed if it was a bigger one rather than the ER crib), and hold her hand. Greg would hold mine. Team McNutt.
If this had happened once in Hannah's life, Greg would be a very good man. But we did this over, and over again. We lost count after 100 times, perhaps it was more like 200. Whatever the count, each time I was reminded of that sweet man, outside of Anne Hardy's office at Starbucks back in November, 1992 that made an impression on me.
Back in May I wrote a Caring Bridge entry after I went to the wedding of good friends in Leavenworth. Sydney and David are musicians, and they made CDs for the guests. The CD contained songs that they recorded. The last song is Sydney singing and playing the guitar to her version of Ben Fold's, "the Luckiest." I listened to the song over and over again, thinking of Hannah. I knew that I was the luckiest to have her in my life.
I know now that that song was really about Greg. Here is that beautiful version of Sydney's cover, and the words.
I am the Luckiest. Thank you, Greg.
The Luckiest – by Sydney Spencer
______________________________________
The Luckiest, by Ben Folds
I don't get many things right the first time
In fact, I am told that a lot
Now I know all the wrong turns
The stumbles and falls brought me here
And where was I before the day
That I first saw your lovely face?
Now I see it everyday
And I know that I am
I am, I am the luckiest
What if I'd been born fifty years before you
In a house on the street where you live?
Maybe I'd be outside as you passed on your bike
Would I know?
And in a wide sea of eyes
I see one pair that I recognize
And I know that I am
I am, I am the luckiest
I love you more than I have
Ever found a way to say to you
Next door, there's an old man who lived to his 90's
And one day, passed away in his sleep
And his wife, she stayed for a couple of days
And passed away
I'm sorry, I know that's a strange way
To tell you that I know we belong
That I know that I am
I am, I am the luckiest