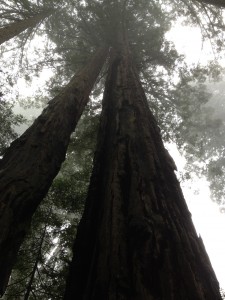 The past few weeks reminded me of how amazing nature is, and truly, what a wonder. I connected both figuratively and literally.
A few weeks ago, I put my very unfit self onto my bicycle and rode from our home down to the ferry terminal. It is about 6 miles, with a few hills and as I later learned, a lot of construction along the way. The ride felt great. While I am a far cry from the fit self that took spinning classes at least 3 times a week through most of my pregnancy with Hannah, at least I felt like I could complete the ride. My plan was to bike from our home to the 11:25 AM ferry, then bike over to Rockaway Beach Park to meet Mike from the Bainbridge Parks Department to finalize the placement of Hannah's bench. It was a beautiful morning, with scattered clouds. The weather forecast said sun with showers, but I didn't see any dark clouds.
I arrived at the ferry at 11:23:10 – 10 seconds AFTER the ferry worker would allow me to board the ferry. They started a 2 minute rule a number of years ago. No boarding the ferry it you are within 2 minutes of sailing time. I tried to negotiate, but that didn't work. So, I sat in the sun and ate my lunch over the next hour. I could see dark clouds over the island coming and going, but had wonderful sun the full hour in Seattle.
I hopped on the next ferry and rode to the park. It was quite a bit further than I remember – ugh. I definitely felt the bike ride by then. The roads were wet on Bainbridge, but I continued to have sunny weather. When I arrived at the park, my friend Marla met me. Her first question – "oh my gosh, did you get caught in the downpour?" Ah, thanks to the missed ferry, I was on the dry side of the sound, soaking in the sun, not the rain. Thank you, nature!
We met the parks department team and found the best place for the bench. It will be situated over a set of amazing tide pools, with a 180-degree view from Wing Point around to Restoration Point. You can see the ferry, Discovery Park (where the other bench will be), and all of Seattle. Awesome!
When we approached Mike from the parks department, his first comment was, "oh, did you see that little hummingbird? It came right up here with it's little red head." Ah, I like to think that sweet Hannah was paying a visit and approved our location.
The ride back to the ferry felt a lot more difficult – while it didn't seem down hill getting to the park, it sure felt like a lot of up hills getting back to the ferry. I just kept thinking, "this is good for me…this is really good for me…" And the last few hills up to Winslow are ones that humility forbids walking, so I slowly made my way on the bike. Thankfully my aunt Gigi was coming through Seattle when my ferry was arriving and offered to drive me back home – just in time for the downpour in Seattle.
Fast forward a few days. Wes and I decided to take a mom/son road trip for spring break. Seattle schools have a really late break this year, starting on 4/16. Wes and I decided to visit family on the west coast, starting with Grandma in Salem, then continuing on through the Redwood forest in CA to auntie Angie and uncle Karl's in Redding.
We left on Sunday and had a nice drive to Salem, stopping in Portland to have a taste of our friend Kim's ice cream. Kim founded Salt & Straw Ice Cream (www.saltandstraw.com) in SE Portland, an independent shop that offers the most incredible flavor combinations. It was so great to see her, and to eat nature's bounty. I had a lemon and Oregon honey scoop that was delicious. The line for ice cream traveled out the shop door and around the corner – I totally understand why. What an amazing way to bring the flavors of nature together in heavenly cream. Yum!
We spent the rest of the afternoon playing at grandma's with Jack the dog, enjoying some sun and fun. Then Monday we packed up the car and headed south.
As is usually the case, getting North/South on I-5 is usually pretty easy. Getting East/West to the coast is usually pretty hard. Winding roads always make for long days. This ride was no exception. Thankfully Wes is a fantastic passenger – he didn't inherit the cars-sickness gene from both me and Greg. We arrived at our destination – Crescent City, CA (the Best Western with the best treat – an indoor pool). We played in the pool and hot tub and relaxed for the evening, anticipating our journey to the Redwood Forest.
This morning, we got up early, had breakfast, and were the first people at the ranger station to get info on how to navigate the vast forest options along the Northern California coast. With our plan in place, Wes and I hopped in the car and took off.
I think I saw the Redwood forest with my parents when I was really little, but honestly, I don't remember. I really wanted to take this in, and get to experience it with Wes – even if it was just for a day.
We started out by visiting something I do remember – the GIANT statue of Paul Bunyan and his big blue ox, Babe, just outside of Crescent City. Next stop, the tree we can drive through (courtesy of a family with a locked box in a welcome shelter on the side of the road where you leave your $5 to visit). From the onset, I felt grateful to the Seattle schools for choosing such a late spring break – there was NO ONE here! The odd timing, coupled with 50-degree weather and drizzle, made for good roads and no company anywhere we went. Wes and I drove through the tree about 6 times – each time amazed that a tree could grow so big, accommodating a car, but also still feel so solid and alive.
Next stop was the Lady Bird Johnson Grove deep in the Redwood Forest. Wes and I spent a few hours hiking the interpretive trail, wondering at banana slugs, ferns, the growth, death and rebirth of the forest and the magnificent Redwood trees. What an amazing display of nature. To walk among 2,000 year old trees – we just couldn't believe it. Again, we were alone on our journey – crossing paths with just one other family as we strolled among the giants. We climbed in burned out hollows, felt the bark and found the cones of the trees, and continued to be awed by the experience. We laughed at the cones – why does the Ponderosa Pine have a HUGE pine cone, but the Redwood have one the size of an olive? It seemed so contrary, and yet nature cares for itself again.
We heard bird song throughout the forest, and thought and talked a lot about Hannah. She is alway in thought – just visible in everything we experience. Our sweet girl.
We arrived at Angie and Karl's around 4:00, ready for a snack in the back yard. It was a warm 65-degrees in Redding, and as we stepped outside to sit and rest, we saw the first of what would be many hummingbird sightings tonight. So sweet. Then the sun-tinged clouds with sunset, making for a perfect close to the day of wonders of nature.
Grateful for the opportunity to experience this – together with my boy. Knowing that the wonders of nature are already touching him in ways that I don't think I appreciated until I was an adult.