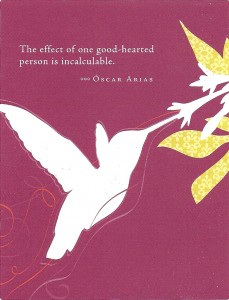 With a fresh sunny day in Seattle yesterday after days of rain, the birds once again returned to our yard.  I love seeing them – so focused and yet so happy.
Greg and I had a very low-key anniversary, hanging out with family in the afternoon, then joining friends for dinner at one of our favorite local spots.  It felt like such the right way to celebrate our 14th anniversary, laughing with friends that Greg has known for more than half of his life. 
We have both grown up so much during our marriage, and the past few years required that we either came together or moved apart. I'm grateful we chose together – it is making this sad, heartbreaking journey of grief possible.  We have this story together – one that is uniquely ours – and we have years to continue writing it.
This weekend, we'll have a night away at the Salish Lodge – just 45 minutes from our home, but our first night away in over two years.  We are both looking forward to the getaway and are grateful for the ability to have a little space from home, even if just for a night.
In a card that Greg gave me yesterday, there was a short write-up about hummingbirds. As I've mentioned before – we see Hannah in nature everywhere, but the places we see her most are sunsets and hummingbirds.  I think this info on the hummingbird says it all:
Legends say that hummingbirds float free of time, carrying our hopes for love, joy and celebration.  The hummingbird's delicate grace reminds us that life is rich, beauty is everywhere, every personal connection has meaning and that laughter is life's sweetest creation.
Amen.