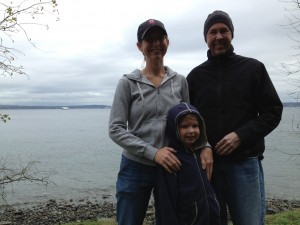 Today is Hannah's 2nd Birthday.  I have been in and out of melancholy for the past few weeks, holding her so close to my heart that it physically hurts.  A fall cold that has never really gone away has turned to a lingering tightness in my chest.
 As always, there are reminders of Hannah everywhere we look.  The beautiful, watercolor skies we have had over the past few weeks during an unexpected clearing at sunrise or sunset; a surprise hummingbird grabbing a drink at a friend's feeder on Halloween eve; the mustard-yellow banana slug that Wes and I saw on a walk today.  She is here – we feel her love and energy.
 Yesterday I went over to Seattle in the morning by myself.  I walked from our home to the ferry, listening to music.  I listened to Alexi Murdoch – one of my favorite singers.  From the first words, tears began to flow.  Orange Sky is one of my favorite songs of his, and now when I listen to the words, I hear Hannah.
 Attached is a video of Hannah's first two years, including photos from our visit today to her bench.  As she is so good at creating, the sun came out and the rain stopped as we played on the beach and released balloons with messages to her up to the heavens.
 Enjoy the video and the song – it may take a bit of time to load,  and the pictures are a little grainy in order to fit the blog size restrictions. 
Hannah is our Orange Sky.
Hannah's 2nd Birthday Video – Blog
 Love to our baby and much gratitude to all of you for being a part of our lives.
 Below is a piece of artwork that I saw on my visit in the city yesterday.  The artist is Brian Andreas, and a number of his pieces are in our home.  This one is called "Living Memory".