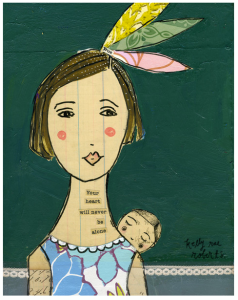 It has been a long time since I've posted!  In part because I've been really busy – kids, work, life.  But I think more importantly, I've been waiting for that stirring – the rumination that I feel when it is time to write.  I also attended a yoga and writing retreat in November – and had the chance to go deep deep deep into my writing again, and found I was both exhilarated and exhausted.  I worked on a number of stories linked to my life with Hannah, and realized that the story that I feel is inside of me – the one that I most want to share if I can figure out how – is about parenting Wes through Hannah's journey.  Taking care of the ones that are still here with us.
As I sit here today, I realize that I've had the urge to write, but have been hesitating.  It feel a lot like the baby book I intended to keep for Mimi (and Wes, and Hannah for that matter!) and never got around to.  I was cleaning out a rarely used cabinet in our bedroom this weekend and found the First Year Journal.  Blank.  It was sitting right alongside the Pregnancy Journal.  In this one, I put my name and the date we found out we were pregnant.  The rest of the journal?  Blank.  Hmmm.  Hoping that baby photos will suffice for the kids as they want to look back on their lives (even tho they are only on the computer at this point, too).
I guess the good news for Hannah's short life is that I wrote a lot – Caringbridge and then this blog.  I had a place to tell her story – to tell our story – and it felt so great getting input from all of my friends about what we were experiencing.  It gave me immeasurable support, and it gave me incredible confidence.  It also helped me rekindle my love of writing and a reassurance that I am a good writer.
Well, today I'm back in the saddle of blogging.  In part because I'm feeling the stir and have a few things I'd like to get down in writing over the coming days and weeks.  And in part because I have exciting news – I'm being published AND I get to be a part of "Listen to Your Mother"!  And to top it off, a team from Seattle Children's just published this month the journal piece about Hannah's genetic condition.
As I've shared in the past, we knew from the start that Hannah was a great teacher.  My hope for her as her disease progressed was that her life would be meaningful well beyond the teaching she was giving us.  We saw the role that she played with her caregivers at Seattle Children's and elsewhere, and we were grateful that our story – her story – would make a difference in the treatment of other babies.
Recently one of our beloved ICU doctors Jonna Clark asked if I would take part in writing an article to be published in a medical journal.  I felt honored and unsure of what role I could play in supporting this work.  Dr. Clark did such an amazing job integrating the scientific concerns of the article with the heart-full stories from my writing during Hannah's life.  I'll post the link to this article when it gets published in several months, but the article is focused on supporting Neurologists to partner with families to bring in palliative care earlier in the process when children have undiagnosed conditions.  The whole-family care from the palliative team can partner with the rest of the curative medical approaches to support the family, and help early on focus hope not just on cure but on comfort, too.  This is exactly the kind of teaching I hoped Hannah's life would have.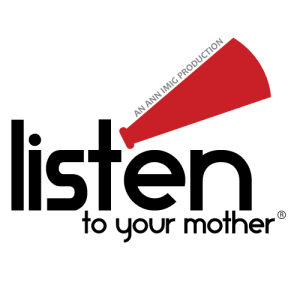 "Listen to Your Mother" is a wonderful program that brings together women from a
variety of backgrounds to share stories of motherhood.  As they say on their website,
The mission of each LISTEN TO YOUR MOTHER production is to take the audience on a well-crafted journey that celebrates and validates mothering through giving voice to motherhood–in all of its complexity, diversity, and humor–in the form of original readings performed live on-stage by their authors.
LISTEN TO YOUR MOTHER aims to support motherhood creatively through artistic expression, and also financially–through contributions to non-profit organizations supporting families in need. Each LTYM show donates a minimum of 10% of ticket proceeds to a local cause, as well as providing the cause awareness/fund-raising opportunities.
I'm so thrilled that a piece I wrote was selected to be part of the inaugural Seattle show on Saturday, May 9.  I'll post more information about tickets as they become available.
And finally, the amazing genetics and neurology team at Seattle Children's Research Institute (and now other organizations as some of Hannah's doctors have moved on) were published last week in the journal "Epilepsia".  They featured Hannah's case along with one other, and shared the findings about the gene variation that Hannah had, and its very rare form that cause Hannah's condition.  My hope is that as other families struggle with undiagnosed conditions that present like Hannah's, the medical team will be able to do this genetic test and get an answer for the family of "what is it?".  While during those dark days of Hannah's life we felt grateful each time we had a genetic test come back negative, I look back now and know that having a diagnosis would have let us come to terms with our impending loss earlier, and we could have focused on her comfort and the sole act of being together and loving each other without fighting to find a cure that much earlier.  I don't understand most of the language in the article (it is definitely written for neurologists!), but I know the outcome of it being published.  And perhaps this may also be a step towards finding a cure in the future.
So, while not a lot of writing has occurred the past months, things are moving.  I'll be better about writing in the future, and I once again remember how much I love this part of myself.