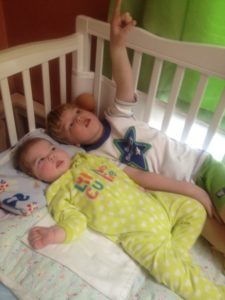 Sweet Hannah. Gone 5 years today. Even in my wildest dreams I couldn't have imagined how we could be here in this lifetime. We work it out. We walk it out. We live and we feel.
The past two days I've been in Denver with Seattle Children's at a Pediatric Parent Collaborative hosted at The Children's Hospital of Colorado. We are here with 15 other pediatric hospitals from across the country, talking about how we move the needle on the patient and family experience. How do we work with these teams to bring the HUMAN part of all of us to the forefront – for patients, families, physicians, nurses, support teams? What matters most? What can these institutions do to bring hope to all the families that are in their institutions?
It has been a powerful few days. The people doing this work are remarkable in so many ways. There is so much care and love flowing through here. And most are authentic, open and loving people (almost all women, of course!). It felt great to be in that room, to be an honored parent voice, but also to be one of them. Carrying this anniversary with me, I reflected deeply on what our care givers meant for us. I'm also sitting in the question about what my role is in moving this work forward. I don't have an answer for that, but I'm enormously grateful for the chance to be in the conversation.
I also see the challenges – risks – road blocks – that these organizations face. From fear of lawsuits to lack of organization-wide support and cost. So many sides to this challenge.
I'm getting a little more clear about how I might help with this work in a way that is sustaining for me, but not overwhelming – not taking over our lives in any way. I'm here for my family. I'm here for IslandWood. I'm here for my community. I need to let those things be the center of my world. But my heart will stay open to this family centered care work, and I'll continue to weave it in where it makes sense.
These past few days, I'm also aware of the burning need for all of us to RISE UP. To break through the barriers – the negativity caused by the president and his closed-minded and extreme beliefs. By the lack of compassion with each thoughtless signing of the pen. The cavalier way that we slice the things that help us be human while inflating those things that are fraudulent symbols of strength.
We will Rise Up. Day after day. Moment after moment. In spite of ache. Like Hannah. We Rise.
You're broken down and tired
Of living life on a merry go round
And you can't find the fighter
But I see it in you so we gonna walk it out
And move mountains
We gonna walk it out
And move mountains
And I'll rise up
I'll rise like the day
I'll rise up
I'll rise unafraid
I'll rise up
And I'll do it a thousand times again
And I'll rise up
High like the waves
I'll rise up
In spite of the ache
I'll rise up
And I'll do it a thousands times again
For you
For you
For you
For you
When the silence isn't quiet
And it feels like it's getting hard to breathe
And I know you feel like dying
But I promise we'll take the world to its feet
And move mountains
We'll take it to its feet
And move mountains
And I'll rise up
I'll rise like the day
I'll rise up
I'll rise unafraid
I'll rise up