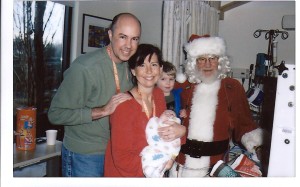 What a month!  Life has been at a break-neck pace the past weeks, between holidays, Wes' 7th birthday, time with family and the One Call for All campaign I've been leading (which broke $1 million last week!).
 Wes and I have been doing dance parties a lot these days – we put on Pandora, choose "Rock You Like a Hurricane" station (thank you Scorpions, or as Wes calls it, "thank you Godzilla music!"), and dance around the living room.  Inevitably the playlist goes through the classic 80s rock hits, with a little Bon Jovi, a lot of one hit sensations, and a fair deal of Guns 'N Roses.  I always get a little nostalgic when I hear "Sweet Child o' Mine"…brings me right back to those fun days at Alpha Phi.
 I don't think I've ever listened to the lyrics until this recent reconnection – I always hear Axl's voice and the guitar solos.  I'm grateful once again for Wes helping me connect in ways I never imagined.
 She's got a smile that it seems to me
Reminds me of childhood memories
Where everything was as fresh as the bright blue sky
Now and then when I see her face
She takes me away to that special place
And if I stare too long, I'd probably break down and cry
Whoa, oh, oh, sweet child o' mine
Whoa, oh, oh, oh, sweet love of mine
She's got eyes of the bluest skies
As if they thought of rain
I'd hate to look into those eyes and see an ounce of pain
Her hair reminds me of a warm, safe place
Where as a child I'd hide
And pray for the thunder and the rain to quietly pass me by
Where do we go?
Where do we go now?
Where do we go?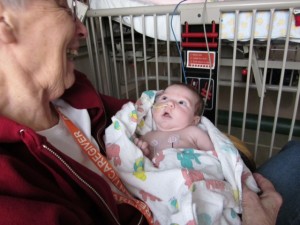 This month has also had the biggest emotional storms we've felt in a while.  Hannah's first Christmas was spent at Seattle Children's.  We have very vivid memories of her there with us, Greg spending Christmas Eve night so that I could be with Wes; me and Marilyn at home on Christmas morning, unwrapping gifts, and packing up to go to the hospital.  One of my favorite photos of sweet Hannah was on Christmas afternoon at the hospital, in grandma's arms.  We didn't know then the path we were on – we thought whatever it was would pass…we'd find a solution.  She was vibrant, happy, aware of us around her.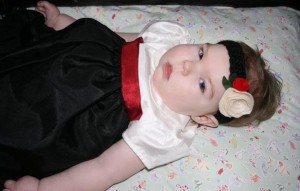 Hannah's second Christmas was very different.  While we weren't in the hospital as the year prior, Hannah was a changed baby.
  While we knew the toll of her disease and treatments were causing degeneration, living in the day to day, I didn't see the outcomes as clearly as I can see them here in the photos.  I think Hannah became our angel baby well before she passed.  It was like she went inward – and had such incredible peace.  It looked like she stopped fighting and found peace just being.
 We recently read Dr. Eben Alexander's book "Proof of Heaven."  His story is an interesting one, and while Greg and I are skeptical about a little of his story, I believe in so much of what he describes…I believe Hannah's life was meant to be the way it was.  My hope is that with each seizure, Hannah was able to take a little journey to the divine – to have a break from her reality and to check out heaven just a little bit.  And I believe (or perhaps better to say hope more than anything) that this brief stay on earth is part of a bigger journey.  Our sweet teacher.
 During the holidays, I would have moments where a memory would come into my mind, and I would burst into tears.  The most poignant was at the Seattle Center with Wes.  We were at the Center House waiting for Geeg and Anasophia to join us for a snack before the Nutcracker. Wes and I were eating and playing, enjoying ourselves.  There was a dance performance up on the center stage – a group of kids from a suburban dance studio doing a bunch of numbers.  They reminded me of growing up dancing, and we were enjoying ourselves very much.
 At a table adjacent to us, a family sat resting and enjoying themselves.  A little girl, probably about 4 or 5, was next to the table, swirling and twirling to the music.  She was in her own world, and I could see she saw herself as a ballerina.  Her parents were laughing and talking to each other, not noticing her, and she was perfectly content in her beautiful dance world.  I thought of myself at that age, and how my imagination would take me into the same magical dance world.  And then I thought of Hannah, and not the little baby that we knew so well, but that hope of her – what we (as all parents) dream of when we're expecting our children.  And just as I began sobbing, Geeg and Anasophia came up behind us.  The moment was so fast – to go from delight to sobs…and that's how it goes these days.
During that same week, I received a post on Facebook from followers of Kahil Gibran.  I get daily quotes sent to me, and they always have stunning images.  However none has struck me so deeply – mainly because the baby in the photo looks so much like Hannah.  It isn't one of our photos, but I swear it is her.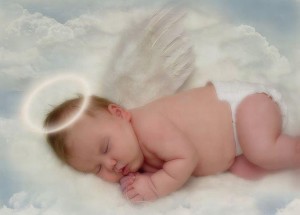 And then to sleep with a prayer
for the beloved in your heart
and a song of praise upon your lips…Kahlil Gibran♥
We are wishing all of you peace in 2013.  Our focus will be on taking care of ourselves, finding moments of laughter, being kind to ourselves, and continuing to be thankful for all that life has given us.  Hannah continues to be on my mind all of the time – not a moment goes by when she isn't with me.  And I am so grateful.