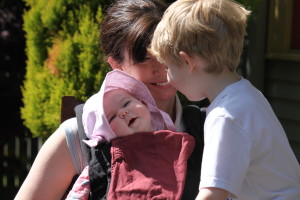 Hannah is always on my mind, but this morning, I am feeling a longing for her that is again bringing me to tears. 
I've been so busy in our lives these past months, just like labor and delivery, I can remember the good times, but so much of the dark, sad days are there, but not at the surface.  Thankfully our recall brings us to the good times.
I was searching for this photo on our computer today and found hundreds of videos – some of Hannah, but more of Wes that first winter of our sweet girl.  I see in these videos not the trauma and heart ache, but the fun – the love that we all shared.  It warms my heart, and I know that we had such wonderful times together, even in the storm of our daily lives.
Hannah Talking Video February 2011