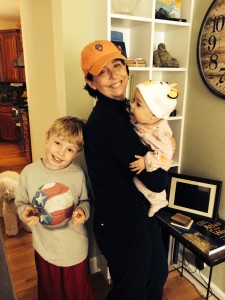 [RE-POSTING WITH A FEW EDITS AND A GREAT LINK TO A PSYCHOLOGY TODAY ARTICLE]
Wes insisted on playing soccer this spring.  We've done a little bit of soccer here and there – a few camps last summer, fall rec league last October.  But this is our first real touch into the world of SOCCER on Bainbridge Island – BIFC (Bainbridge Island Football Club).  This is their Spring Academy – a fun season of skills and drills and friendlies, so nothing like I hear the fall experiences are like with select teams.
Last Wednesday I went to the first friendly game day.  I wasn't sure what to expect.  There are 8 teams of boys in the U8 group with 10 boys per team, and 4 teams of girls.  I'm still in awe that this small island can have 120+ kids from 6-8 years old playing soccer (and that doesn't include the kids playing up in the U10!).  I get why Wes wants to be a part of this – it is an incredibly popular thing to do and the energy is high!
I knew that I'd see many familiar faces at the practices and games, but I didn't expect to feel the emotion that I did taking all of it in.
I'm still amazed that we've lived on Bainbridge Island for 10 years.  We're in the same house we found on a quick search when our home on Queen Anne sold in a day and we had to find a place fast.  A decade of life here on the island, we have so many friends and connections.
As Wes played soccer on Wednesday, a steady rain fell down on all of us committed parents on the sidelines.  I had Mimi in the stroller and she was on the edge of sleep, so I walked her around the fields of the high school, each being used by a wide range of sports – soccer, baseball, and lacrosse – each field filled with kids working hard and parents supporting them on the sidelines.
A few things struck me as I pushed the stroller in the rain.  One was a sense of gratitude to have found this place – Bainbridge Island.  It is a small little haven, where we have resources like these amazing fields our kids can use to play and run, and where dedicated parents get to connect with each other.
Two, I was in awe of how many people I knew as I strolled – some very well like good friends from my book club, others acquaintances that I have met along the way with Wes or through our lives here on the island or growing up in Kitsap County.  My heart leapt as I saw faces of friends I hadn't seen in years, and I had fun recalling how we first got to know each other (baking bread on Friday morning at Madrona School, or mommy and me music classes when our big guys playing soccer now were in our arms, etc.).  So many fun, happy memories.
And three, I also felt a sense of dread (maybe I should call it fear) that there is so much pressure on our kids here on Bainbridge to be productive, and be really good at what they are doing.  While we aren't yet to a place of having to hone in on "what Wes will be?" in terms of athletics or other definers, questions came to me about parenting on Bainbridge.  What if your child just isn't really good at anything?  What if they struggle physically or socially?  What is they don't have fun playing sports or other competitive activities?  What if they burn out at a young age because they've been too invested too young?  Why is it that if you don't start digging in and playing now in second grade (or even earlier), you've missed your window to be part of the team?   Yikes.  These questions terrify me.
I grew up dancing, and from an early age was in ballet, tap and jazz.  This transitioned to an intense requirement to dance in a local dance company, and by the time I was in junior high, I was at the studio 6 days a week, often until 9:00 at night.  I was joined by a number of girls from a young age that also dedicated themselves to dance.   When I was ten, I asked my mom to let me stop dancing and start playing soccer.  I was told that we had invested too much into dance and that I was too good to quit.
Over the next few years, I started seeing that my skill and ability were falling behind a few of my friends with whom I'd always felt an equal.  I just didn't have the strength or skill to keep up.  As they got better and better parts in ballets, I continued to be in the chorus – working so hard, but unable to step up to the next level.  My heart broke each time we had to audition for productions and I was once again an alternate for a lead, always in a secondary role.  I felt worthless and defeated.  As I write this what amazes me most is that all of this occurred before I was 14.  At fourteen years old I started getting stress fractures in my feet which brought my dance career to an end.  Outwardly I was sad and acted bummed, but inwardly I was so grateful.  I felt done – tired of the competition, tired of pushing myself, tired of having all of my energy go to dance.  I didn't have a future career as a ballerina – I knew that.  I wasn't going to go to university on a dance scholarship – I knew that.  And yet I was dancing with such intensity that it ruled my life.  And then with an injury, like that, it was over.  I was free.
Pushing Mimi in the stroller around the fields, looking at her sweet almost-seven-month-old face, I became acutely aware of how hard it is to be a parent.  We want what is best for our kids.  We work hard (and spend A LOT of money) to make things happen for them.  I want to be able to listen to my kids…hear their needs…and be able to respond to what makes sense for them.  How do you do it?  I think my plan will be to do what we had to do over the past few years during Hannah's short life.  Try to guide the process.  Be open to what comes.  Be present for what we want for right now and give our kids permission to try something, stop something and focus on having fun.  Most important, be there for our kids and let them know we love them (and ourselves) no matter what.  A recent article in Psychology Today focuses on just this issue – http://www.psychologytoday.com/articles/201310/the-problem-rich-kids.  While our family is not rich, we live in a community that faces these challenges every day.
I look back at these times in my life with the wisdom of age.  Like all of us, we've faced so many obstacles and things we thought we could never, ever survive.  Hannah's greatest gift continues to be showing me these lessons.  And the lessons keep coming with Wes and Mimi.  A few weeks ago Wes had the Wilkes 2nd grade concert – the kids sang, and then had the opportunity to display a talent.  Some played instruments, others did acts.  Wes played a sweet little song on the piano.  He was really nervous leading up to the day.  The afternoon of the concert, I picked him up after school like normal.  He was gushing because they had the opportunity to practice everything in front of the 3rd and 4th graders.  He told me that he was so glad he was playing the piano because after he did his song, a few kids came up to him and told him how well he did.  He said to me, "mom, it made me feel all warm and glowy!"  We had never talked about that "glowy" feeling, but I knew exactly what he was talking about.  He was really proud of himself.
Such great learning lessons in this Soccer Season.