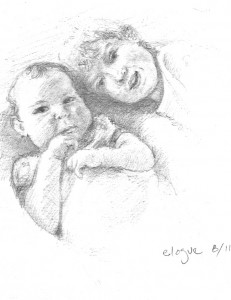 Two year ago on March 21, Hannah passed away.  Not a day goes by that she isn't with me – always on my mind…forever in my heart.
As I've been anticipating this upcoming anniversary, I think about our sweet, sweet girl.
I think of her beautiful skin, soft chubby arms and legs.  Her gentle touch, sky blue eyes, soft breathe that would hit my neck as we cuddled.  Her smell…oh, how delicious she smelled.
I think of how she loved to explore her senses – eating sweet potatoes or applesauce with coconut oil (love the Ketogenic diet!); how she would make a little face when trying something new…slowly letting it hit all of the areas of her mouth.  How she loved the aromatherapy tubes our wonderful therapist from Boyer Clinic made for her so that she could experience the scents of orange, lavender, eucalyptus and peppermint.  How she loved to touch – faces, favorite blankets, water.
I think of her pure love for Wes.  How she would watch him – her eyes shining, her focus a bit deeper than with any other person in the world.  This video was brought to my attention last week – it is a wonderful display of the love between a sister and brother Brother Teddy.  So much like the love I witnessed between Wes and Hannah.  Wes would ask similar questions about Hannah's future, and assumed she, too, would get to grow up, become a mom, and her disabilities would disappear in the future.  His magical thinking sustained us through Hannah's journey…his love for her and hers back to him didn't break our hearts – it made them grow immeasurably.
It's hard to believe that two years have passed since Hannah and I sat together in our home in Ravenna, cuddling and singing as she took her last breathe.  That precious moment I will never, ever forget.  Unlike so many other memories, it is still vivid.  I can still feel her, hear her, recall her warm body in my arms.
Last week, the same friend that shared the Brother Teddy video also shared a link to a video of Natalie Merchant singing "Wonder".  I have always loved this song, but I never knew the story behind it, and never really heard the words.  Wow.
Ooo, I believe, fate, fate smiled
And destiny laughed as she came to my cradle
Know this child will be able
Laughed as my body she lifted
Know this child will be gifted
With love, with patience, and with faith
She'll make her way, she'll make her way
We are grateful for all that we have in our lives.  We still sit in wonder of our amazing baby.
We all talk about Hannah often, sharing stories with Mimi of her big sister.  We'll go to Hannah's bench on Friday, let off our balloons (including one from our new addition), send our love and wishes to the heavens and focus again on our gratitude for Hannah's life.