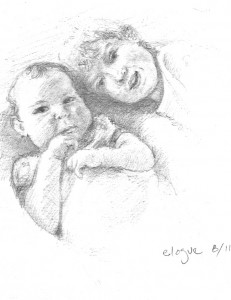 We have finalized the plans for the Celebration of Hannah's Life on Saturday, April 7 at 6 PM. We are so glad that we can host it at the Burke Museum at the UW. This wonderful place is filled with dinosaur bones, artifacts, local cultural history and just feels really, really good. We want children at the event – the sounds of laughter will make this memorial special for all of us.  I know we'll be holding Wes closer than ever.
The only downside is that we have to wait until the museum closes for the day to host our party. At 5 we'll start setting things up, and our hope is to have delicious Cupcake Royale bring their cart and serve our favorite – Baby Cakes.
The celebration for Hannah will include songs by our friend Johnny Bregar – if you don't know his music, he is one of the most talented children's musicians around, and his music has special meaning to us and has been our favorite throughout Hannah's life.  http://johnnybregar.com/
The service will begin at 6, but feel free to come a little early and wander the museum – we have the entire main level to explore starting at 5.
Attached is the flyer announcing the memorial – please share with others that you think might want to join us.