I haven't written for a while.  These past few weeks, I've been struggling.  I've been so sad, missing Hannah.  More honestly, missing the possibility of the healthy Hannah I still see in my dreams.  And equally fierce, I've been struggling with control issues.
 I've always had strong opinions – a keen sense of right and wrong.  In the Enneagram test of personality types, I'm the quintessential Type 1 (the Perfectionist).  As it says in the link to this personality type,
 You have a strong 'internal critic' that reminds you of what you should and shouldn't do. At times, you can be judgmental and critical of others, telling them what you think is right. You behave this way because you want to help people avoid mistakes. You believe that there is only one way to do things and that is the right way. As a perfectionist, you feel that if something is worth doing, it is worth doing right. As a result, you are only satisfied with what appeals to your strong sense of what is moral. Idealistic, you naturally wish to educate others to help them improve themselves.
 This personality type has served me well in so much of my life.  It made me a diligent student; it created the drive to work hard in my career; most recently, it provided me the strength and courage to partner with Greg as Hannah's advocate through all the medical decisions, and gave me a strong sense to listen to her and focus on her comfort. 
 At the same time, this inner compass of mine runs contrary to all that has happened in our lives.  I couldn't get Hannah better and her loss is so profound. The result now is a painfully deep need to control the things around me.  As I lose control, I am trying to regain some sense of doing things right by directing others.  The fact is it isn't working.
 I was talking with a good friend this weekend that lost a baby many years ago.  She said that the first year was really tender.  She didn't even come out of the fog until two or three months after the loss.  What she helped me realize is that we are just entering this grief.  The storms will come and go, and we'll continue to get tossed by the waves.  Control isn't something that can happen during the storm.  Hanging on, being patient – once again these are the lessons that are facing me.
 So, I sit here today, focusing on being patient with myself.  Remembering that there isn't one right way to do anything, and that I don't have to worry myself with these small things.  Letting go is actually providing me with control.  And I will once again surrender myself to the waves of grief that continue to come.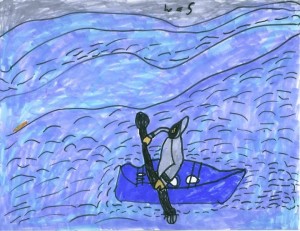 Wes created this image of the solo kayaker riding the waves this winter.  It hangs in our stairwell, right next to a beautiful photo of Hannah as a baby, and lots of other photos of our family. 
As I am writing this post, I am viewing this image with new eyes. 
The wisdom of a six-year-old.