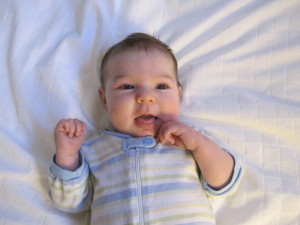 Today I started a prenatal yoga series.  I've been hesitant to start doing yoga again.  I've tried a few times since Hannah passed away, and each time it leaves me so vulnerable – I feel so exposed and the waves of emotion seem to hit hard and strong.  When I'm doing yoga, I can't get Hannah out of my mind.  She is so present there – in each breathe; in each pose.  I feel her strong presence and a love for her that makes my heart ache.
Today was no different.  The yoga class brought up my deep connection to her, and my fears surrounding the little life that is growing.  I know this baby is healthy.  I know that what happened to Hannah was a "spontaneous mutation" – that the odds of winning Power Ball are higher than having another situation like that.  And I know that we have done everything in our power to have a happy, healthy baby.  Yet still…
I'm going to keep going to yoga.  I'm going to let myself sink into our sweet Hannah, feel the waves, and let the baby we are welcoming feel them, too.  Over time, I know that integration will happen and the emotions I feel in yoga will transition to a sense of peace.
Wes fondly refers to the baby as "George," so now that is our pet name for the little peanut.  We don't know the gender, and I'm hoping my will power will hold out and we'll wait to meet him/her in September and can celebrate not only the baby's health, but also get to experience the wonder of learning if it is a boy or girl at that time.
While in Shavasana (resting pose at the end of the class), I had Hannah and Wes on my mind, and the baby dancing in my belly.  I could feel the thumping kicks of George's little feet and I felt the grace once again of this life that we all get to live.
I came back to my office and saw a post on Facebook from Seattle Children's with a new video made by all the volunteers that do so much to raise needed funds for the organization.  The song, "Aint No Mountain High Enough" is exactly how I feel about my children.  I would do anything for them.  Include crack open so that I can be fully present for them and for us.