I was just searching our computer looking for an old email message. What came up instead was an email that had the attached story.  What Happens_Die
After Hannah passed away, I heard the story of the soul's journey as told by Kafka from a few folks.  Here it is again, written so well.  We have always said that Hannah's life was so profound and she did such meaningful work in her short, 16 months.  I love this explanation ("And then Kabbalists said, when a young child dies, don't cry too much, because in all likelihood that soul needed to come to earth for just a brief time in order to be purified so it could join God in paradise.").  Not a day goes by that I'm not in Hannah's presence – her life is still being lived by all of us who were touched by her.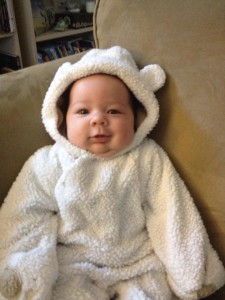 Life is very full for us.  Maura is a vibrant, dynamic little being – she is already showing us her energy and strength.  At 10 weeks old, she is working very hard on being present – from following action with her eyes, to finding great delight in sitting up on her own, working on holding fingers and standing, and just starting to explore her voice.  She thinks Wes is just about the most awesome person ever.  Wes and his friend carpool home each day, and literally argue about who gets to sit next to Maura.  They both have their tricks for how to get her attention, stop her from crying, see if she'll smile, etc.  It is very sweet to see this bond already so deep.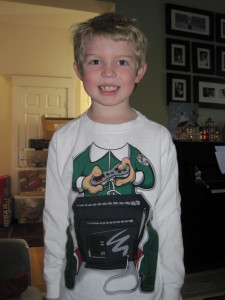 Every day I am reminded of what a joy and trial it is to be a parent.  The work is so hard at times, and yet the rewards are so great  – often from the simplest things.  I can stare for hours at Mimi's sleeping face, and am so grateful to nurse her and feel her sweet skin against mine.  I am in awe of Wesley's wisdom at 7 years old – he connects to concepts that I honestly don't think I was even exposed to as a child, and he asks deep, thought provoking questions that lead to conversations I love having with him.  And, like most parents these days, we deal with screen time limits, expectations, and all of the other realities of parenting.  Balance is never easy, and I struggle on a daily basis with these things.
I was reminded this week of a book I read a year or so ago by Brene Brown, called "Daring Greatly".  The focus is on vulnerability, and it hit home with me in many ways for stepping into life.  One of the things she discusses is wholehearted parenting – being fully present and available for your children.  Being vulnerable and allowing and encouraging that in our families.  I found online this great image of her "Wholehearted Parenting Manifesto."  I keep it hung up in my closet so that I can see it every day.  I am reminded of this again as I think about our sweet, strong-willed Mimi and our future together.
Wishing all of you happy holidays and good times with your families.  I'm ever so grateful for ours.